Global Chamber® Baltimore/Washington
Global Chamber Baltimore/Washington helps members get business done across metro areas! We are a thriving and collaborating community of CEO's, executives, and professionals growing business across 525 metropolitan areas. We leverage technology and our collective networks around the world to help member companies grow, reduce risk, be more productive, and succeed faster.
We are the only organization in the world with the mission to grow business from anywhere to anywhere while collaborating with every organization. We help companies, investors and business service providers around the world succeed.  
Doug Bruhnke, Executive Director
Global Chamber® Baltimore/Washington
Doug Bruhnke worked for 2 decades at Dupont, HQ in Wilmington, and has lived in the region for over 10 years. He also has lived in 7 states and three countries (US, Japan and Singapore), and traveled to over 60 countries.
Doug's parents retired in the Gaithersburg - Frederick 270 corridor, and his brother is an architect in the DC area. As a member of a District Export Council and a long-time collaborator with Sister Cities and Global Ties, Doug has been working in the DC area for decades on collaborations that help companies grow globally.
Education: EMBA, Michigan State University; BS Chemical Engineering, University of Utah
Boards: District Export Council, US Global Leadership Coalition, University of Utah Alumni Association
Past Affiliations: DuPont, DuPont-Showa Denko, Dupont-Dow Elastomers, Phelps Dodge Mining, Promodel Corporation
Personal: Wife of 35 years. Daughter is a nurse practitioner.
LeAnn Young, Global Advisor
Global Chamber® Baltimore/Washington
LeAnn Young is a specialist in global business development, global marketing, and international trade. She founded and launched Global Chamber Baltimore/Washington.. She has been helping Global Chamber members and sponsors in the Baltimore/Washington region grow their businesses more successfully in the global market, .LeAnn serves on the Advisory Board for Global Chamber Baltimore/Washington.
LeAnn has more than 30 years of combined experience in global business development and international marketing, She has managed international partners on six continents, crafted global marketing strategies and programs for technology companies, facilitated international trade, and launched new products throughout the world.. LeAnn is currently a Senior Global Marketing Manager at Prometric, a global testing and assessment company, headquartered in Baltimore and doing business in 180 countries.  
Education: MBA International Business/Marketing, The American University, Washington, DC;  B.S.Technical Writing and Editing, Carnegie-Mellon University, Pittsburgh, PA
Larry Brill, Deputy Director
Global Chamber® Baltimore/Washington
---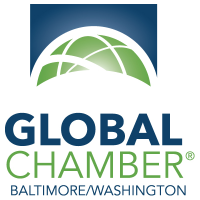 Contact us to learn more
bwi@globalchamber.org
(855) 476-9845
Be global and UNSTOPPABLE!