Global Chamber Celebrates
1 Year in Baltimore!
On November 1, 2015, one year ago, Global Chamber began its journey in the Baltimore region to help businesses engage in more successful cross-border trade and investment. When we started, we were already part of a growing and thriving worldwide Global Chamber organization, however in the Baltimore/Washington region, we were literally an "unknown." Now 365 days later, things have changed. Our roots have taken hold, and we are helping to make a difference for businesses in the region. What an exciting year it has been!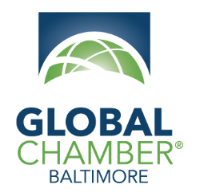 As the leader of Global Chamber® Baltimore I have witnessed so many accomplishments over the past 12 months. We built some successful collaborative relationships with business organizations and other chambers, and we developed good working relationships with many government agencies supporting global business, including the Maryland Department of Commerce, the U.S. Export Assistance Center in Baltimore, the Small Business Administration, the Maryland/DC DEC, and EXIM Bank.
We grew our membership too, which now includes small, medium, and large size companies from a variety of industries, and we helped these member companies to make useful business connections and grow via the resources and services offered through the Global Chamber network locally and worldwide. Our Global Chamber Baltimore members received the opportunity to speak to global audiences through Global Chamber's virtual events, as well as engage in Global Chamber's online communities for discussions about industries or parts of the world where they have business interest.
During the year, Global Chamber Baltimore brought global business leaders and professionals together on a regular basis for content and conversation about global business. We held several speaking events to educate local businesses on global topics and we introduced "Global Connect After Work" our networking events. With our newsletters, frequent social media postings, and global events calendar, we helped to keep the local community informed about Global Chamber events, as well as trade missions, programs, and other global sessions offered in the region. We created a place where small and medium sized companies can engage in the global business community and learn about exporting and international business.
And while all this was going on in Baltimore, I witnessed global business successes taking place throughout the world, thanks to Global Chamber worldwide. I watched the Global Chamber organization grow from 10 to 100 active metro chapters globally and add regional desks and global advisors to cover 196 countries.
Yes, it's been an amazing start-up year for Global Chamber Baltimore! I am proud of what we accomplished so far and I look forward to accomplishing even more next year as we continue to help the Baltimore region strengthen its global mindset and grow globally.
I would like to thank the following organizations for their efforts since our journey began one year ago:
Global Chamber Baltimore's Board of Advisors for their dedication, advice, and hard work

Global Chamber Headquarters Team in Arizona and my Global Chamber colleagues around the world for all their support

Maryland Center for Entrepreneurship in Howard County for allowing Global Chamber Baltimore to call the MCE home
I am excited and ready to start Year 2 with the Global Tribe! I invite you to engage with us in Baltimore or around the world, as a member, sponsor, or collaborator.
By working together we accomplishment more!
Be global and UNSTOPPABLE!℠
All the best,
LeAnn Young
Executive Director, Global Chamber Baltimore
To learn more about Global Chamber Baltimore, CLICK HERE.