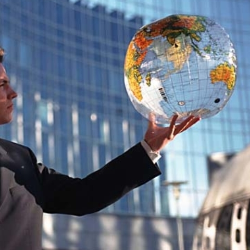 Looking to grow your business in another area of the world?
On Thursday, March 3rd from 5- 7 pm Global Chamber® Baltimore will host a "Structured Global Business Networking" event. The goal is to get to know each other better for more valuable and results oriented networking.
Gene Sutter, Vice President with BB&T Bank's International Services Division, will use his 30 years of global business experience to lead us through our structured networking process. Gene has worked in-country and throughout Europe and the Middle East with commercial entities, banks, and multilateral agencies.
Global business leaders of all industries are invited to attend. Helpful event for companies wanting to export their products and services to new international markets, foreign-owned companies interested in investing in Maryland or expanding their businesses into other U.S. metros, and service providers who enable companies to navigate global business successfully.
Structured networking is a meeting-form that makes personal introductions at events more predictable and effective. Come prepared to tell us briefly about your company and your global business goals and/or challenges. Expect to leave the evening with stronger relationships and better resources!
This event will be held at the Maryland Center for Entrepreneurship (MCE) and is open to the public and free for Global Chamber® members and MCE clients. Non-member fee is $20 when purchased online, in advance. Tickets may be purchased at the door for $25 (cash only). Please register online by March 2nd.
Agenda:
5:00 pm - Arrivals and registration
5:30-6:30 pm Structured networking - thank you Gene Sutter, international banking specialist, for leading us.
6:30-7:00 pm Open networking - take what you've learned and connect with those most valuable to your industry.
The Global Chamber mission: "Engage executives and regional leaders in more successful cross-border trade and investment to accelerate global business growth, increase community success and change the world."