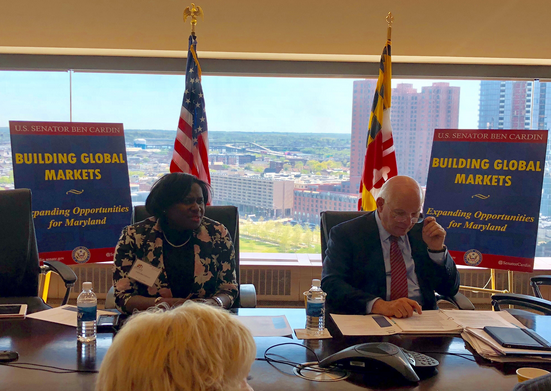 On May 1st Global Chamber® Baltimore/Washington hosted U.S Senator Ben Cardin of Maryland at the Maryland Department of Commerce, Maryland International Trade Center on Inner Harbor in Baltimore,
Among Senator Cardin's leadership responsibilities is serving as Ranking Member of the Small Business & Entrepreneurship Committee and member of the Senate Foreign Relations Committee.
Guests included Maryland Secretary of Commerce Michael Gill, Charles R. Conner III ESQ., Deputy State Director at the Office of U.S. Senator Chris Van Hollen, President of Howard County and Hispanic Chambers of Commerce, plus other Global Chamber® executives, government officials and Global Chamber® Advisors. Thank you all!
And a big thank you to Rev. Jerome Stephens, Community Outreach Director at Senator Cardin's office for putting the meeting together! Thank you Andrew Kreinik of MD Dept of Commerce for reaching out to host the meeting.
Topics included Free and Fair Trade, tariffs, and SBA Import and Export loans!
Thank you Senator Cardin for always championing Maryland for Global Trade!
After my opening remarks, I was pleased to introduce Secretary of Commerce for State of Maryland Michael Gill. Then I introduced Senator Ben Cardin.
Senator Cardin expressed his gratitude for the Global Chamber® for facilitating global connections especially in Maryland, which is a prime location due to its proximity to the Nation's capital and his ability to reach many businesses in the community. Among the discussions were NAFTA as discussions continue with USA, Canada and Mexico, Tariffs concerns as the state of Maryland is a large Importer of steel. He expressed optimism on U.S being a dominant economy, but yet depends on global order to continue its trade viability.
The remarks were followed by open dialogue, where several global business entrepreneurs on the African continent in countries such as Liberia, Sierra Leone, The Gambia, Tanzania, and Senegal, and in Asia in countries including South Korea, expressed some of the challenges they encounter accessing capital for international financing, and the risk averse nature of some specialized government agencies and financial institutions. Senator Cardin was receptive to the feedback and promised to look in to it. The Senator further emphasized forums like these to be hosted in the near future for ongoing dialogue.
A Q & A was followed with a discussion on the North and South Korea recent bilateral talks, TPP - Trans Pacific Partnership and issues with China Fair Trade and IP concerns by U S companies.
There was also this comment by Mi Jeong Hibbitts of Global Chamber member company PTC International of Baltimore, and Global Chamber® Advisor for Asia region.
"Meeting with Senator Cardin was great! We heard his views on recent steel and aluminum tariff issues and even North Korea. He was a great listener. He was particularly interested in hearing the challenges of accessing capital for small-medium sized international companies, and he promised to look into the effectiveness of some financing programs to help small and medium sized companies engaging in international business."
And there were these final comments from founder/CEO Doug Bruhnke of Global Chamber®....
"The Global Chamber® is NOT political, but we appreciate the opportunity to meet politicians who have an impact on how our members do business around the world. Senator Cardin is to be applauded for his taking the time to listen, and for his continued work to help companies grow global trade."
Global Chamber® is a growing and collaborating community of CEOs, executives and leaders in 525 metro regions around the world... connecting members businesses to new opportunities and advancing growth and success. Our Baltimore/Washington chapter is one of our hundreds of locations. Global Chamber® is a registered trademark of Global Chamber, LLC.
Jainaba Ceesay is CEO of EBROSSO Consulting and Global Chamber® Advisor for The Gambia and West Africa Region.